Terri J. Van Dyke


STONEWALL

Rebellion

Veterans

Association


Charter S.V.A. Executive Committee Member

(since 1969)


Past S.V.A. Treasurer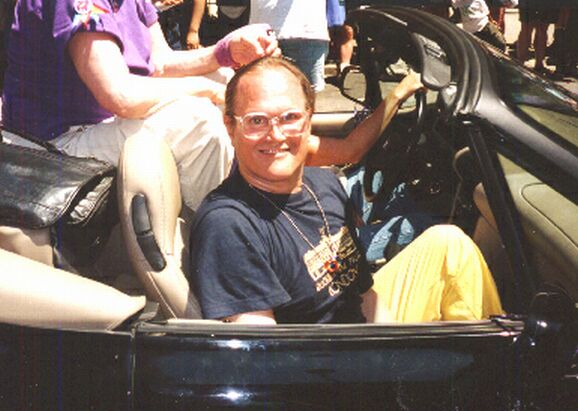 Terri Van Dyke in a NYC Gay Parade car w/ S.V.A. for "SW-28" in 1997


(Terri is wearing a "Buckingham Palace, London, England" t-shirt)


[Photo by Farrell Armstrong]
Terri J. Van Dyke

, a "Native New Yorker" (just like the original Frankie Valli song), was born on November 23, 1948, in Manhattan, New York City, at East Houston Street and Avenue D (as in "Drag" queen). In the summer of 1962 during a heat wave, his abusive, over-the-top, divorced mother threw him "out in the streets" at the very young and vulnerable age of 13. Terri remembered, "A few years later, my favorite girl group,

The Shangri-Las

, came out with a chilling song called "Out In The Streets". As soon as I heard it, I said: That's me!" Ironically, 30 years later, that song was included in the wonderful

Gay, Lesbian, Bisexual and Transgender

("GLBT") fill-lentgh feature movie "

Stonewall

" (1996). Terri was at the premiere of the film with his longtime special friend

Willson Lee Henderson

, who was the Stonewall consultant on the movie. They arrived, along with Queen Allyson, Rayette McCaffrey and Leigh McManus, in the historic metallic blue 1969 open-convertible "Stonewall Car".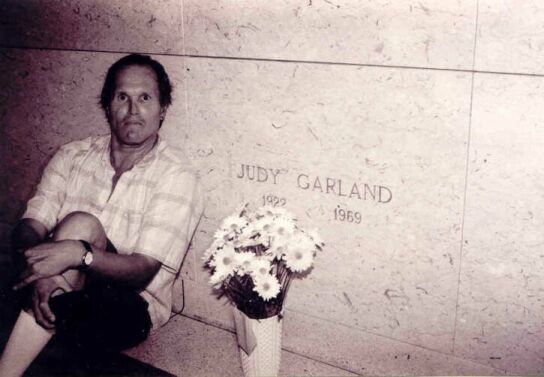 Terri Van Dyke at Judy Garland's Masoleum in Westchester in 1989
[Photo by Stonewall veteran Jeremiah Jay Newton]



Why did Terri Van Dyke's mother toss him out? Why else? "I remember well one time when I was about six years old, my Mother regularly took me to the neighborhood playground. The cute boy, Jimmy, from next door was there with his nice mother. We were playing in the sandbox with a bunch of fun toys. I kissed the boy! Although it was probably his first time, it wasn't mine. He liked what I did and I did it again (and again). His mother didn't care about an innocent gesture from another child. But, my Mother -- and I recall this vividly -- loudly declared: "It's time for me to get another child". In less than a year, my troublesome sister Melissa was born. Fasten your seat belts! My Mother lived to regret that wish!" Seven years later, after his high-anxiety Mother gave him the real "86", Terri bummed a dime and called one of his "trix", who soon got him his own walk-up tenement flat on Spring Street on the Lower East Side. In the meantime, as an under-aged youth, he stayed with another older male trick. And to give Terri some sense of "family", yet another trick bought him a miniature collie dog that he gayly named "Butch". From that time, through the Stonewall Era, until 1974, Terri lived life vivaciously and precariously as a woman! Terri has uniquely lived every part of "

G-L-B-T

"!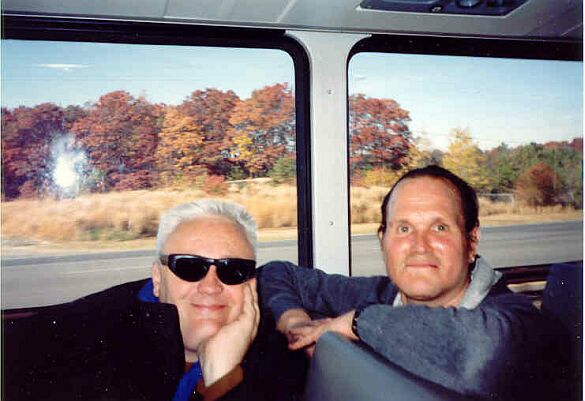 Stonwwall vets Jeremiah Newton and Terri V.D. on a Bus Trip to Atlantic City in 1992
[Photo courtesy of G.M.H.C. organization]
Terri J. was elected Treasurer of the

STONEWALL Rebellion Veterans Association

("S.V.A.") as of "Stonewall 25" in June of 1994. He has been unanimously re-elected every year as S.V.A. Treasurer for ten years through his demise in late 2003.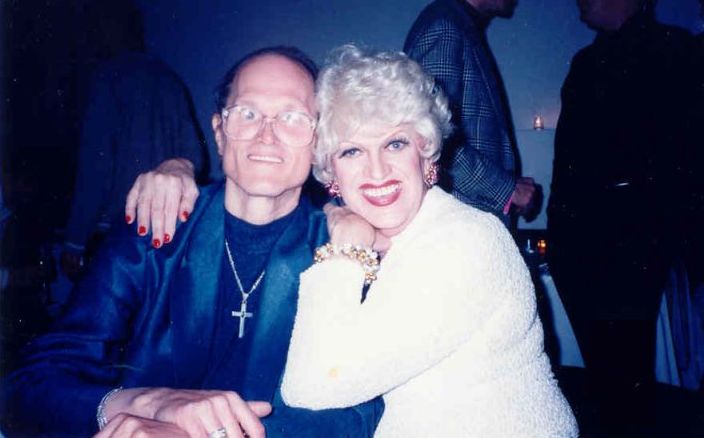 Terri Van Dyke and the Duchess Rayette at The STONEWALL Club
[Photo by SVA's Electra O'Mara]



Terri Van Dyke

at an SVA-sponsored "Stonewall Showtyme" at the Stonewall Cabaret Room, located directly above The STONEWALL Club main floor, in 1998, with good friend Duchess Rayette McCarefree of the Imperial QUEENS & Kings of Greater New York.



*






The Imperial Princess Jenni and S.V.A. Treasurer Terri after the NYC Gay Parade
[Photo by Leigh McManus]



Pictured above (l-2-r) are: Princess Jenni June, Vice-President of the Imperial QUEENS & Kings of Greater New York, with Terri Van Dyke. The scene is after the 32nd annual Gay Pride Parade, which the S.V.A. led, on Sunday, June 24, 2001, at the Hudson Corner Cafe for the annual "S.V.A. Stonewall Sunday Brunch". In left background is Greg Lambert (with blue cap), the GLBT Liaison of U.S. Congressmember Carolyn Maloney, who also marched in the Gay Parade with the S.V.A. and was present at the fun S.V.A. brunch.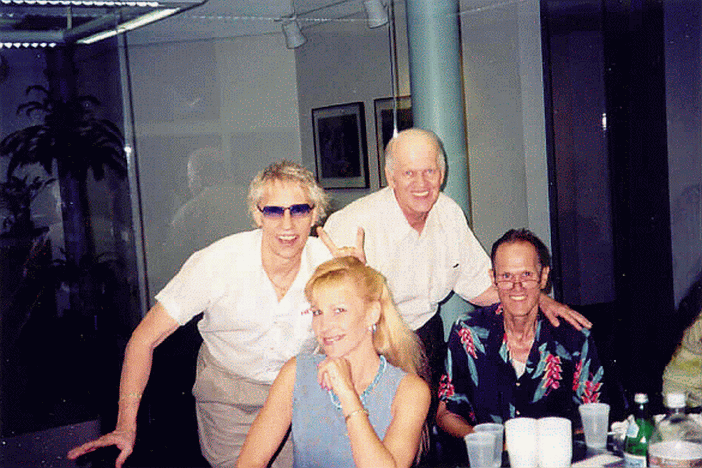 Terri and the Blonde Pack
[Photo by Liz Abzug]



Just five days before the notorious "September 11th, 2001" attacks in Manhattan, shown above are (l-2-r):

Willson Henderson

, president of S.V.A.;

Jenni S. Egan

, Vice-President of the IQKNY;

Ray McCaffrey

, Financial Secretary of the S.V.A.; and

Terri Van Dyke

, Treasurer of the S.V.A., at a wonderful, pre-Election Day political party for New York City Council (District 1) candidate Elana W. Posner on Thursday, September 6, 2001 in Manhattan. Ironically, it took place at a beautiful loft apartment in the World Trade Center area. Terri gave a very civic and moving speech at the event about the upcoming Primary Day Election on September 11th. Terri worked part-time for the N.Y.C. Board of Elections. Unfortunately and sadly, said elections had to be cancelled and postponed for two weeks due to the terror attacks on the World Trade Center on September 11th, 2001! Terri was working at a New York City election polling place uptown in Manhattan when the attacks occurred in the very same town! The election site was then totally closed. Terri and all the other workers were sent home (with pay). The horrendous terrorist attacks experience was extremely disturbing to Terri.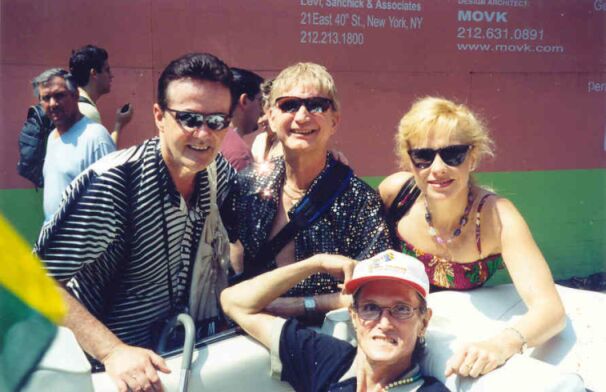 Terri Van Dyke parading in the famous 1969 "Stonewall Car"
[Photo by Willson Lee Henderson]



Stonewall veterans Rick Rodrigues (left) and Eldon Garrett and the IQKNY's Princess Jenni June Egan surround Terri, waiting in the 1969 "Stonewall Car", at the N.Y.C. 33rd annual Gay Pride Parade line-up on Sunday, June 30, 2002.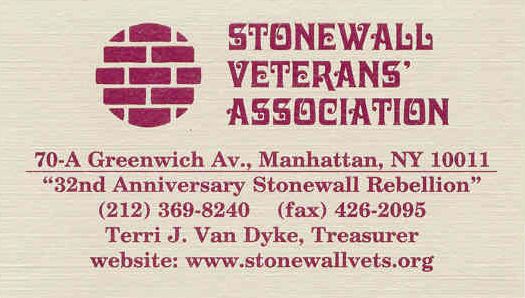 ~~~
*
~~~*~~~

Tribute to Terri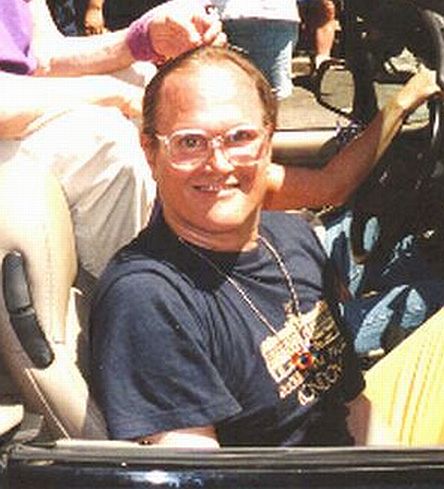 In Memoriam:


Terri J. Van Dyke


November 23, 1948 -- November 3, 2003

Wake: Ahern/Buckley Funeral Home
Manhattan, New York

Obituary:

New

York

Daily

News

on Wed. (Nov. 5, 2003) and Thurs. (Nov. 6)

Viewing at Funeral Home: Thursday, November 6, 2003 from 6 p.m. to 9 p.m.

Terri Tribute Speeches @ 8 p.m.

Willson L. Henderson (best friend and event host)
Rev. Pat Bumgartner (Gay minister with opening prayer)
Robert P. Van Dyke (dedicated father)
Lillian Siracuse (wonderful step-mother)
Liz J. Abzug (Bella's Gay daughter and a fave of Terri)
Jeremiah Newton (longtime Gay friend and S.V.A.)
Ray McCaffrey (S.V.A.)
Dianne Yodice (longtime fag-hag pal)
Storme DeLarverie (S.V.A.)
Leigh P. McManus (S.V.A.)
Greg Lambert (rep'ing Congresswoman Carolyn Maloney)
Electra O'Mara (S.V.A.)
Bert Coffman (S.V.A.)
Jenni Egan (IQKNY)
Dr. Mariano Nevarez (Gay psychiatrist)
plus other friends.... Bill Murawski, Dave West (S.V.A.), Jessica Berke, Carl Manzano, Tim Berryhill, Brooke Lyn, Matthew Samuelson, Will Weder, Lynn Knibb (nurse), AnDre Christie (parttime healthcare aide), Ramon Bellido (S.V.A.) and Rev. Magora Kennedy (S.V.A. and religious closing)

Floral arrangements were received from: Terri's parents Robert and Lillian Van Dyke; Willon, AnDre and Jazzpur (Terri's cat); Leigh McManus (no relation to Jim), STONEWALL Veterans' Association; Queen Allyson Allante, Imperial QUEENS & Kings of New York; Greg Lambert & Will Weder, Village Reform Democratic Club; and Marlon Hunter, PRIDE Democrats of NYC.

G.L.B.T. News Story:

New

York

Blade

News

(Nov. 7)
"Stonewall Vet Dies: Terri Van Dyke"

Funeral: Friday, November 7, 2003 at 12 noon
Ahern/Buckley Funeral Home

Traveling from the funeral home to the cemetery in the funeral limousine: Robert Van Dyke (father), Lillian Siracuse (step-mother), Willson (fellow SVA-er), Jeremiah (friend and S.V.A.) and Rev. Magora (chaplain and S.V.A.)

Burial: Rose Hills Memorial Park, Putnam Valley, New York.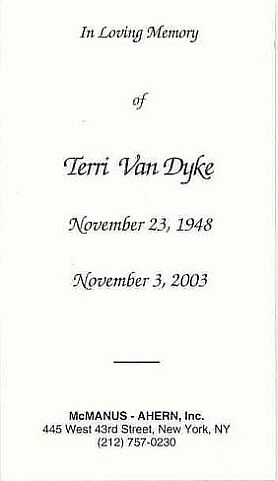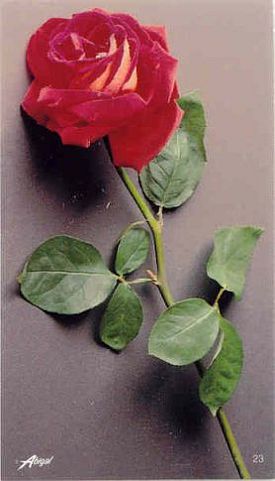 Memorial Card distributed for the SVA's Terri Van Dyke

*
New York Daily News Obituary for Terri J. Van Dyke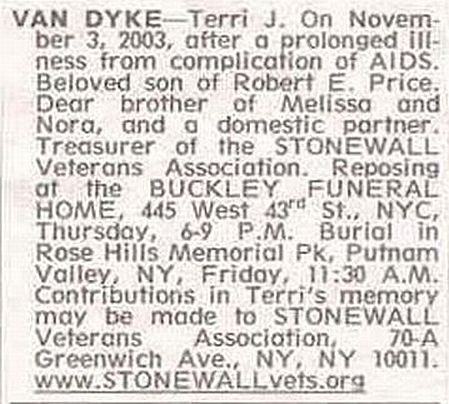 The referred 'Domestic Partner' is another S/W-Vet!

*
New York Blade News "Letters" remembering Trailblazer Terri Van Dyke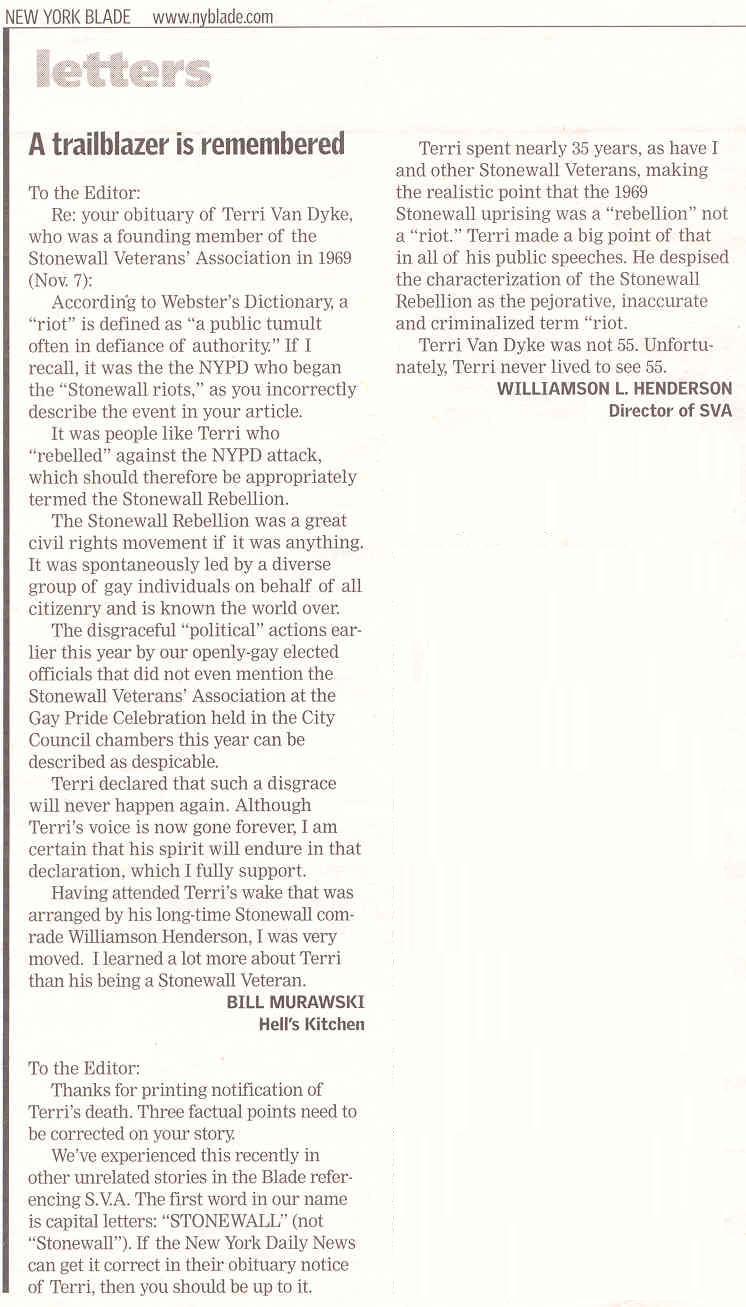 "A Trailblazer is Remembered" published letters from Williamson Henderson and Bill Murawski
*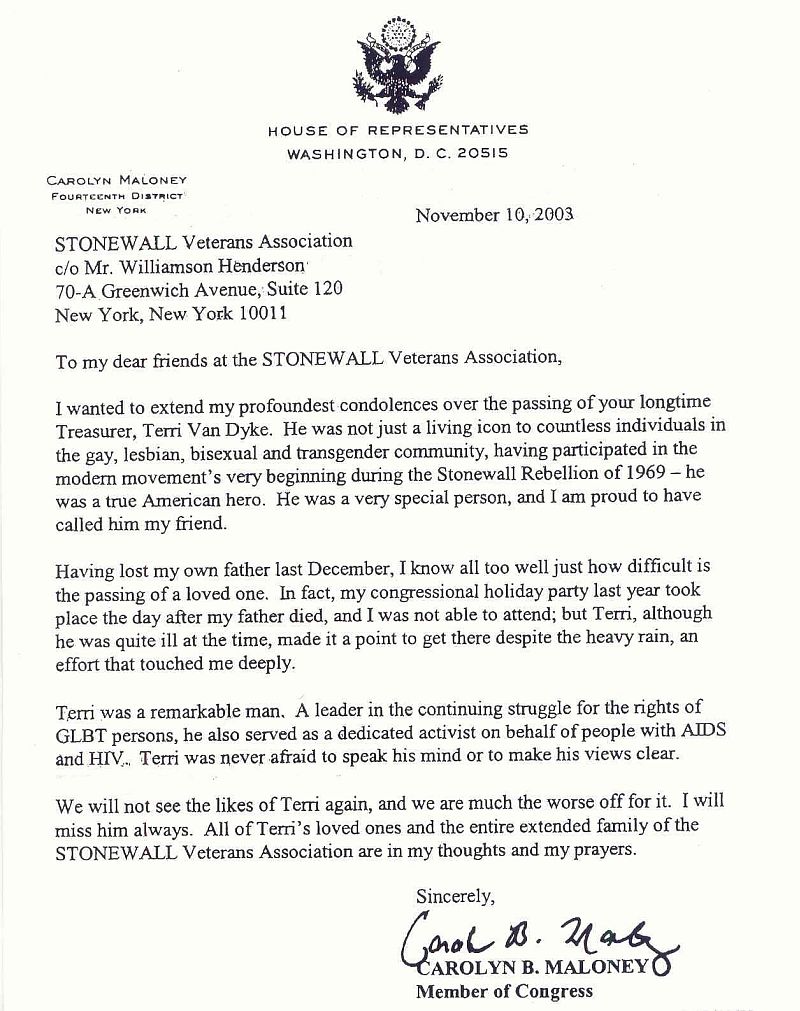 Sympathy Letter for Terri from his favorite Congressmember Carolyn Maloney

*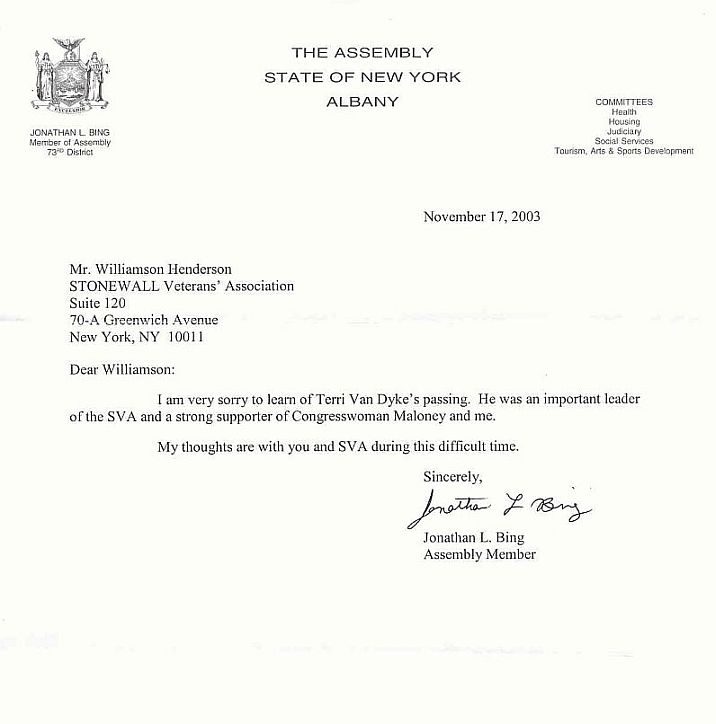 Letter acknowledging loss of Terri from Assemblymember Jonathan Bing

*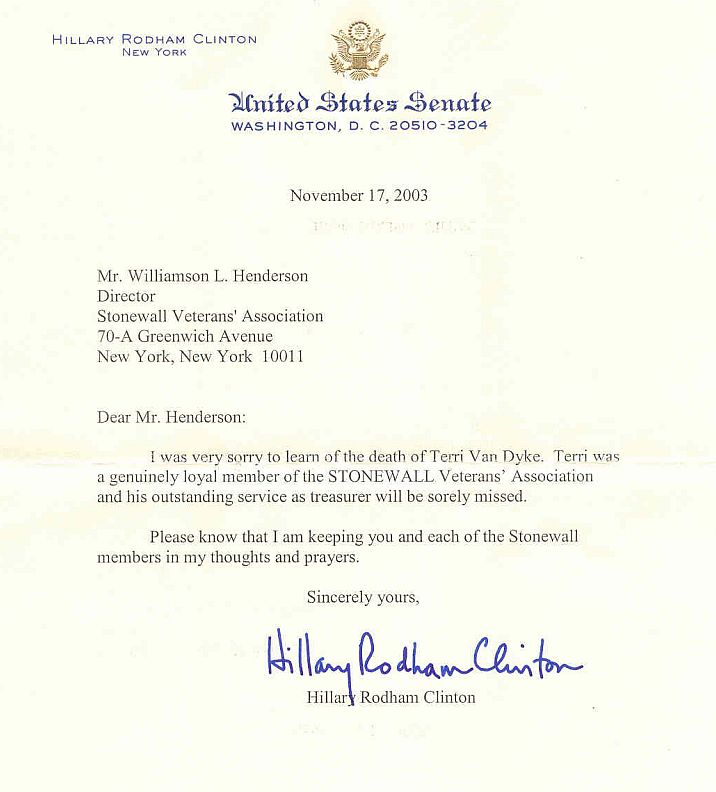 U.S. Senator Hillary Clinton's Sympathy Letter to the S.V.A. for Terri Van Dyke



*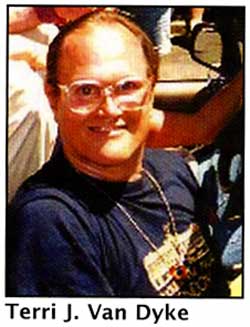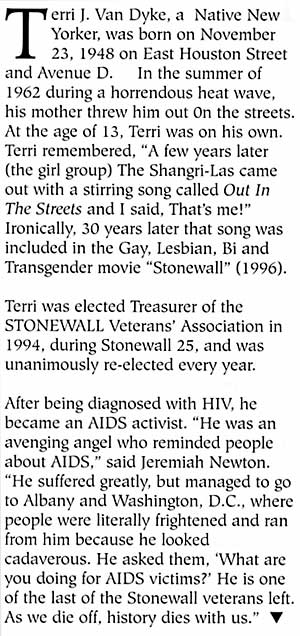 Tribute on Terri from NYC Gay Parade organizers Heritage of Pride
[Excerpts taken from the S.V.A. Website and the New York Blade]

*


More

Terri Jordan Van Dyke

biography will be presented.
More pictures of TVD will be posted at this S.V.A. webfile.
We welcome any other pix of Terri to be sent to the S.V.A.


When it comes to website input, due to funds, we're slow... but sure!

16 September
2019

*G
*L
*B
*T
*
PRIDE

*

"
STONEWALL
50
"
*
=====2019: 50th Anniversary of the Gay Stonewall Rebellion=====
[Friday night, June 27 ~through~ Thursday evening, July 3, 1969, Manhattan, New York City]
*