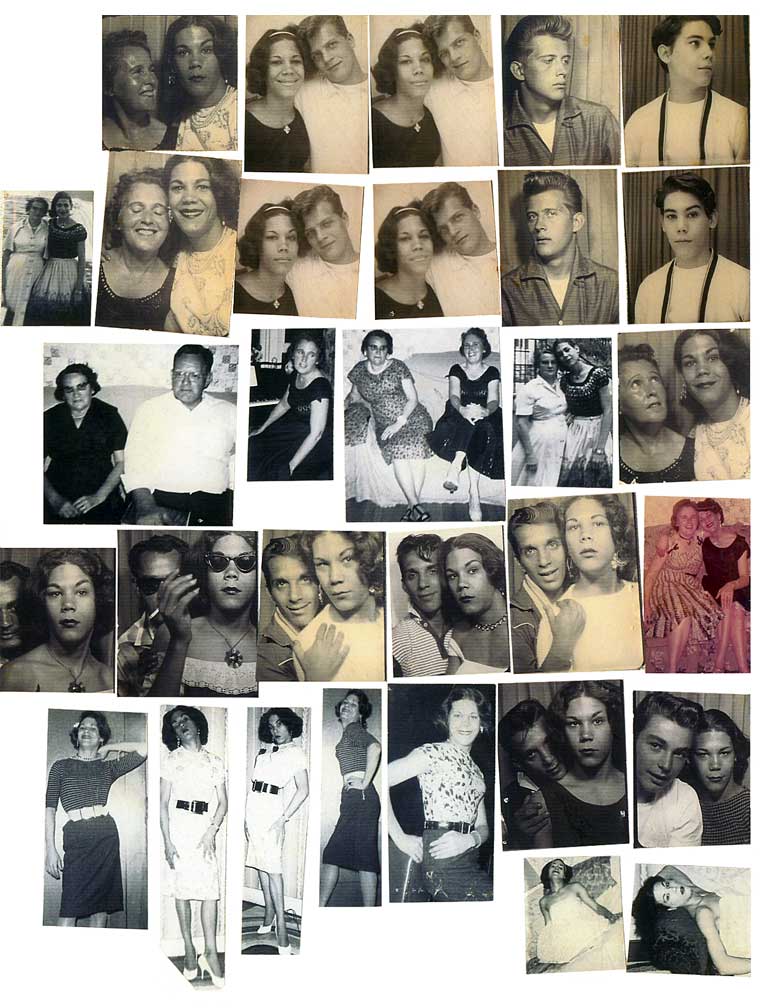 On display for the whole wide world to see: Miss Jackie Barrett
[From the Jackie W. Barrett Collection for the S.V.A. Archives Project]

Shown on top row (L-2-R): Mentor Ruth with Jackie, two pix with blond Barry, James-Deanish Frankie and (drum roll)... Jackie as a boy! Second row shows Aunt Alice, Ruth, Barry, Frankie and, again, Jackie when she was a good-looking boy named Jack! Third row shows Aunt Alice (with shades) and Uncle Bob from Buffalo, NY. In the fourth row, pictures 3, 4 and 5 show Ricky with Jackie. In the 5th row to the far right is Jackie with another handsome fella (white tee shirt) Gene.


* * * * * * * * * *


Jackie Barrett Collage #2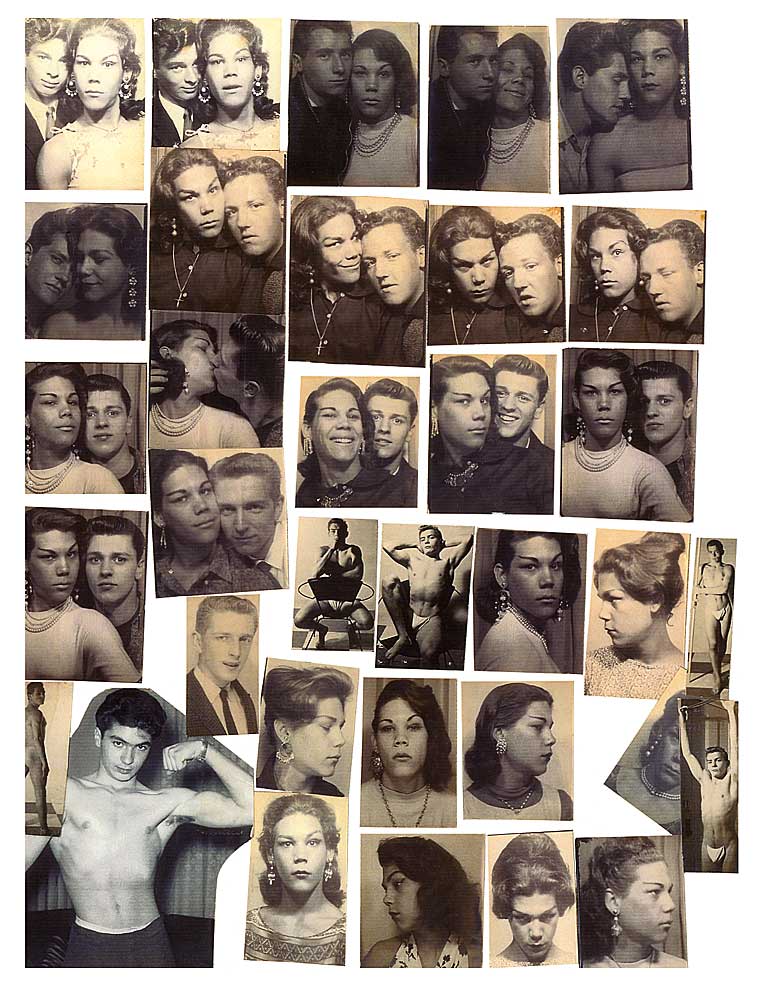 Wonderful behind-the-scenes pix of Stonewall Era-plus entertainer

Jackie Barrett

* * * * * * * * * * * * *

"The Stonewall Club was my favorite of all the many gay bars and gay clubs for two simple reasons: one, it had dancing and I loved to dance, dance, dance; and two, I could walk there!"

* * * * * * * * * * * * * * * *

Jackie Barrett Collage #3
The above photographs of Jackie are mostly taken in Baltimore, Maryland.
The top row of pix with fur jacket are on Jackie's 23rd birthday in 1964.



* * * * * * * * * * * * *


Among the many nightclubs and bar clubs that Miss

Jackie Barrett

performed in, are included, but not limited to (listed alphabetically): The Band Box, Bon Soir, Cafe Bizarre, Danny's of Christopher Street, Dramatics Personnae, The Duplex, The Hampton Wick, Mr. D's, Ninth Circle, The Purple Onion, Reno Sweeney's, The Five Oaks (Ginger + Jeremy), The Round Table, The Sea Colony, The Snake Pit, Trude Heller's, Upstairs at The Downstairs, The Zoo -- and many more in New York City!




* * * * * * * * * * * * *

Jackie Barrett Collage #4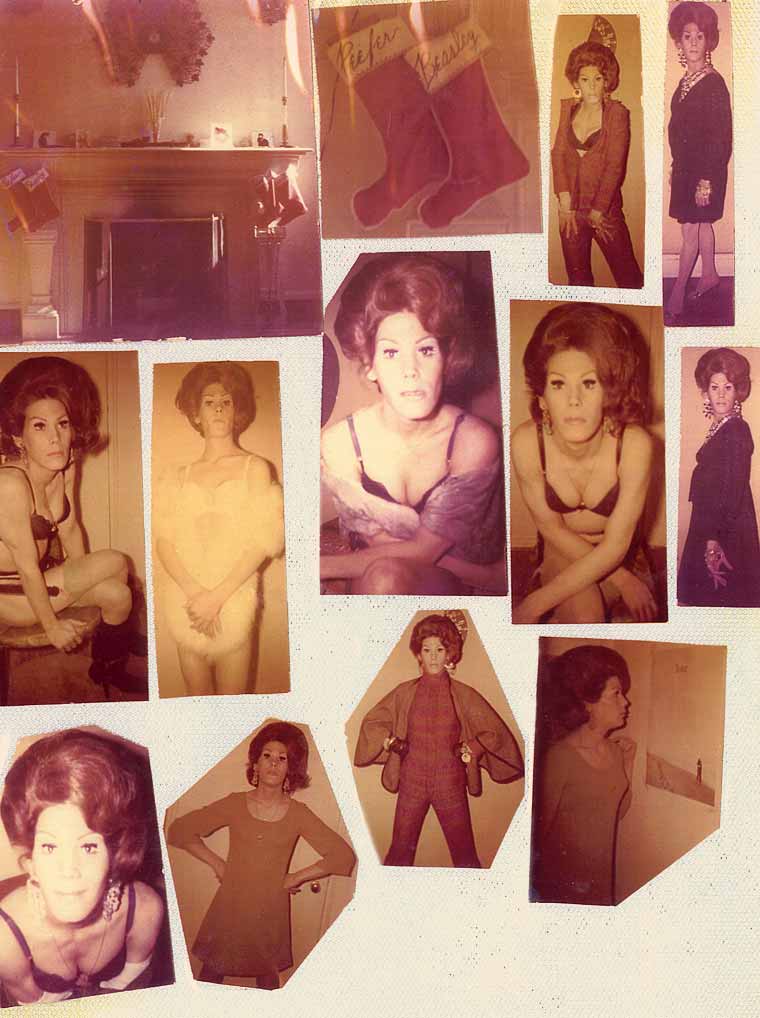 Interesting photo collage of the legendary entertainer Jackie Barrett
[S.V.A. Archives Project from the Jackie Barrett Collection]

* * * * * * * * * * * * *

After an absence of many years, since she moved from New York to Florida a quarter-of-a-century ago in 1981, Jackie Barrett reactivated with the STONEWALL Rebellion Veterans Association ("S.V.A.") years ago. In an exclusive grant arrangement with the S.V.A. in April of 2005, Jackie contracted her expansive and valuable collection of vintage photographs, costume wardrobe, autographed photos, documents, memorabilia, artwork, diaries, mementos, etc. from the now historic Stonewall Era (1966 to 1969). At the monthly membership meeting of the S.V.A. in October of 2005, Jackie was nominated for Ambassadress by Stonewall veterans Storme DeLarverie, Ruthybird Campbell and Rose Giordano. At the annual S.V.A. Election Meeting in November of 2005, Jackie was unanimously elected to the literally international position of S.V.A. Ambassadress. As of 2006 and beyond, Jackie Barrett actively represented the S.V.A. and spoke with S.V.A. officials at least thrice weekly. She has a regular schedule of conversing and strategizing with S.V.A. director Willson Henderson. In March of 2006, the "In The Life" national television show pre-interviewed Jackie for an upcoming feature centered on several individual Stonewall veterans in the S.V.A. They interviewed interesting Jackie spanning two telephone hours from New York to Florida. The fascinating segment subsequently appeared on P.B.S. television.

As the SVA's Ambassadress, one of the national Gay, Lesbian, Bisexual and Transgender ("G.L.B.T.") organizations that Jackie is seeking the renewed sponsorship is the support of the Human Rights Campaign ("HRC") for G.L.B.T. rights and concerns. The S.V.A. receives the latest updates on the HRC from Jackie regularly. Jackie reaches out to other G.L.B.T. organizations to inform them of the legendary existence and the continued importance of the S.V.A. Miss Barrett is dedicated and busy with her dozens of "babies" -- her beloved cats and those of the neighborhood and beyond.



* * * * * * * * * * * * *


Jackie Barrett Collage #5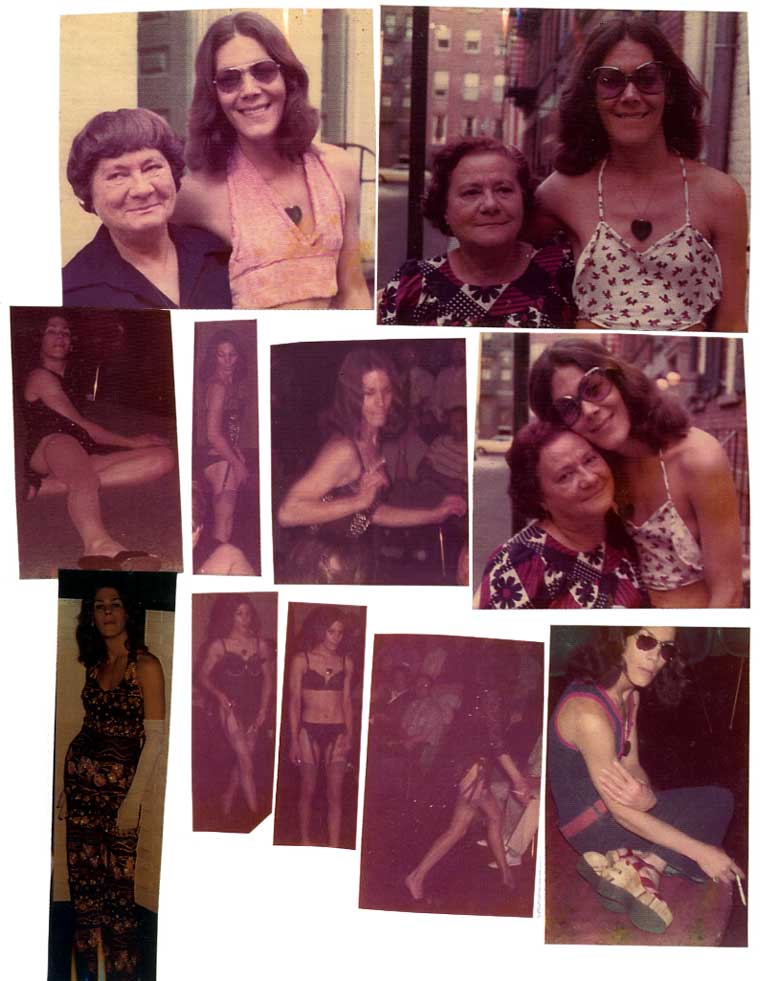 Jackie Barrett with a revealing relative and in revealing poses and outfits.
The three photos with the older-than-Jackie woman is her mother "Ma".
* * * * * * * * * * * * * *
Jackie Barrett Collage #6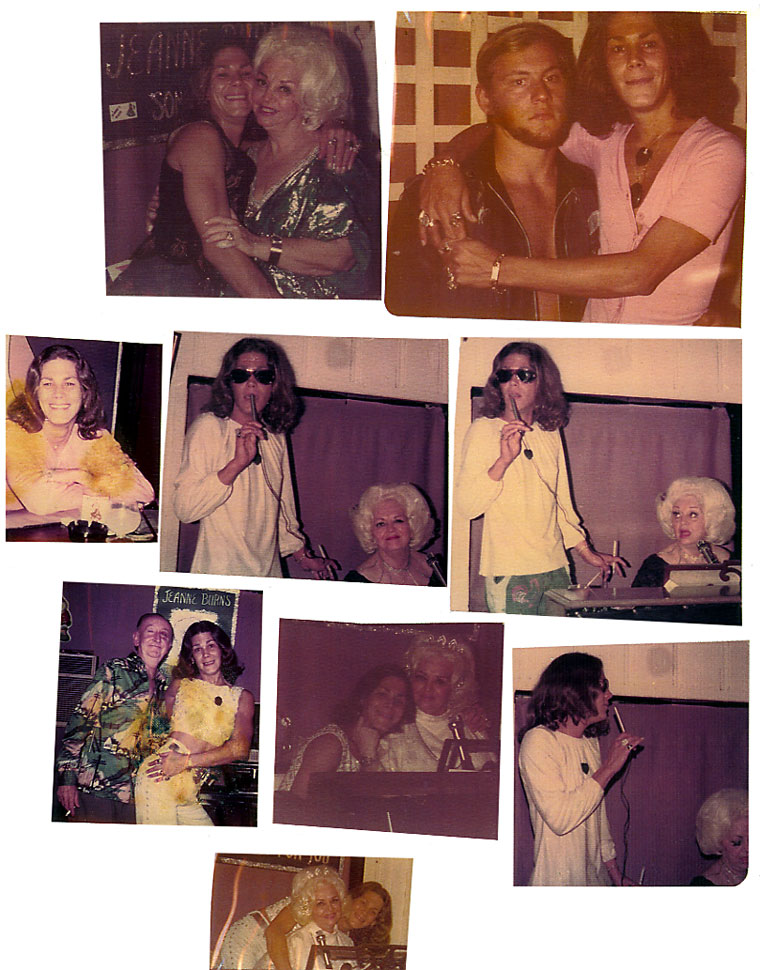 Miss Jackie Bee with another entertainer (the blonde) and the top guy a hot number.
The blonde woman was Jackie's entertainer and dear friend Jeanne Burns.
Miss Jeanne was a pianist and songstress appearing at Greenwich Village venues.
The oder gentleman (lower left) with print shirt was labeled as "Joe & Me".
Notc: The performance poster on the wall of the club is Jackie Burns!
Among the 100-plus collage pages of Jackie Barrett are the following celebritorious people!
Here are many people in my pics which are on 100 composites of collages:
 

Martin Luther King Jr., Bella Abzug, Ed Koch, Jesse Jackson, Brooke Lynn,




 Lenny Bruce, Polly Bergen, Michael Griffith, Frances Faye, Wallace Hamilton,




 Alan Ginsberg, Quentin Crisp, Carmen McRae, Betty Friedan, Gloria Steinem,




 Betty Buckley, Carol Channing, Ann Miller, Liz Torres, Joan Baez, Mimi Farina,




 Phil Ochs, Richard Farina, Geraldine Page, Angela Lansbury, Jimi Hendrix,




 Phyllis Diller, Janis Joplin, Bob Dylan, Honey Harlow, Tennessee Williams,




 Truman Capote, Martha Raye, Peter Allen, Liza Minnelli, Henry Jacobs,




 Barry Gibbs, Bette Midler, Barry Manilow, Lou Reed, Frances Faye, Fran Warren,




 Constance Ford, Eartha Kitt, Neal Peters, Sarah Vaughn, Julie Wilson,




 Grace Jones, Bobby Short, Elaine Stritch, Williamson, Mick and Bianca Jagger,




 David Bowie, Andy Warhol and entire Factory Group, Halston, Calvin Klein,




Blaze Starr, Tempest Storm, Lou Reed, Nico and The Velvet Underground,




 Tally Brown, John Waters, Georgia Sothern, Barry Gibb & The Bee Gees,




 Bayard Rustin, Felice Picano, Sal Mineo, Camille Sands, Sylvia Miles,




 Queen Allyson Allante, The Manhattan Transfer, Ruthybird, Tish Touchette




and the Village People!  These are just many of the celebrities over the




decades off the top of my head!  Ohhh, and John Lindsay, Geraldine Ferraro, 




Glenn Close, Jeri Southern, Storme DeLarverie, Kinky Friedman &  The Texas 




Jewboys, Candy Darling, Tommy Dowling, Tammy Novak, Pat Suzuki, Terri 




Van Dyke, Jackie Hormona, Dionne Warwick, Zolita....

  What a truly exciting life!!!!!

                   ---------- 

Miss Jackie Barrett



* * * * * * * * * * * * * * * * * *
Jackie W. Barrett Collage #7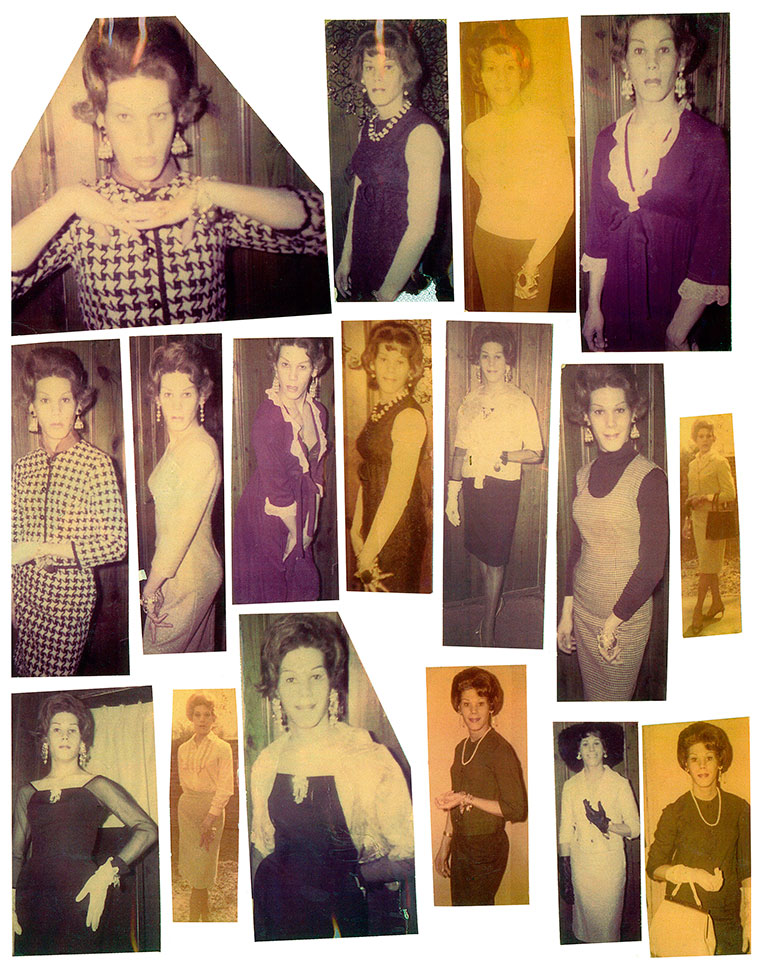 Jackie B
---
Miss Jackie Bee

was re-elected unanimously once again as the esteemed -- and sometimes steamed -- S.V.A. Ambassadress at the annual S.V.A. election meeting in late December 2007. Among Jackie's special assignments are as the representative, negotiator and facilitator with national and statewide

Gay, Lesbian, Bisexual and Transgender

("G.L.B.T.") organizations such as the

Human Rights Campaign

("HRC"). The HRC is a G.L.B.T. civil rights organization primarily informing on G.L.B.T. issues and concerns and, therefore, influencing political groups, public officials and candidates for public office.

---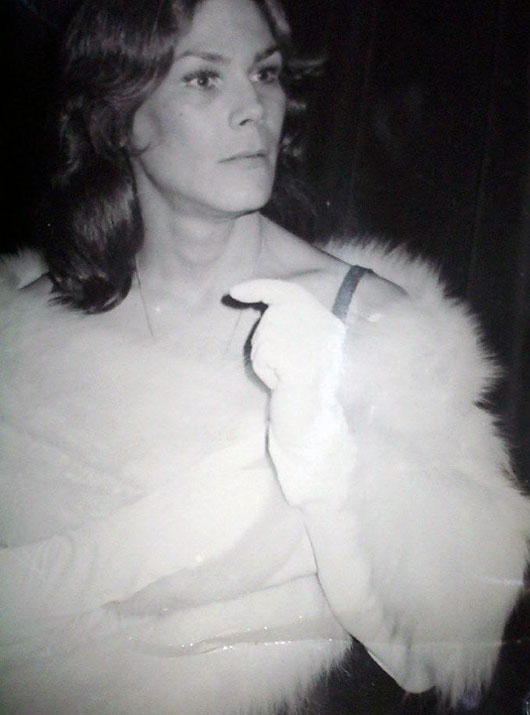 Classic profile of Miss Jackie Barrett
---
Request: If anyone has any other information on Jackie W. Barrett, please contact the S.V.A. via U.S. mail, telephone, e-mail and/or fax! The few relatives that Jackie had were estranged from her previous or do not have the same working phone numbers. Her sister Elsa I. Woodard, also a supporter of the S.V.A., passed away a couple of years prior. We know Jackie has living relatives on the West Coast. No relative or friend contacted the S.V.A. with any 411 about Jackie's death in Miami, Florida. Jackie lived alone, except for all of her cats and a ferret.





STONEWALL Veterans' Association


511 Avenue of the Americas, Suite 128
Manhattan, NY 10011
Telephone: (212) 627-1969
E-mail:

SVA@StonewallVets.org


Fax: (718) 294-1969






11th July


2021

52nd Anniversary of the S.R.V.A.

https://www.StonewallVets.org/upcomingevents.htm

*

===== 2021: 52nd Anniversary of the GLBT Stonewall Rebellion =====
[Friday night, June 27 ~through~ Thursday evening, July 3, 1969, Manhattan, New York City]

*

Miss Jackie Bee"

, riddled with multiple cancers for years,
bade 'bye-bye-bye' to all of her surviving fans, having loooong
surpassed the 70-year mark,

and

theatrically 'exited stage left'
for the final time on the 13th of June (Gay Pride Month) in 2014!
Jackie Bee passed in South Miami Beach, Florida, USA, where
she relocated from Greenwich Village, NYC, 30 years prior!
Jackie is survived by all of her beloved Stonewall veterans
especially Willson Henderson, Bert Coffman and Ramon Bellido
-- and her many, many feline friends a.k.a. cats and a ferret!

Rest-in-Peace -- One of the SVA's all-time Transgenderists!


[Sunrise: 2 May 1941 ----- Sunset: 13 June 2014]

*




---